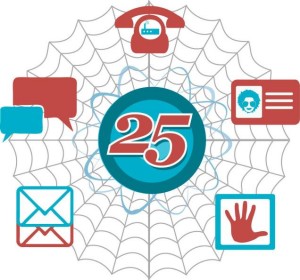 As the World Wide Web turns 25, here's a look at its school days
At the point when Harry Met Sally in 1989, the world met the World Wide Web. That is the year Sachin Tendulkar made his international cricket debut, Daniel Radcliffe was a wailing child in diapers, Taylor Swift and Chris Brown were simply conceived and Luis Suarez was two, and gratefully, gnawing just on his pacifier. Twenty five years on, the WWW is a worldwide wonder and some piece of our ordinary lives.
The greater part of us got acclimated to the WWW at some point in the mid 90s. As the years progressed, it opened up a channel of assets that brought extraordinary happiness and we applauded in pleasure as we viewed the world psychologist on our workstation screens. About whether slicker types of stimulation accessible on the web supplanted more established ones and we proceeded onward, getting used to fresher patterns. Presently that Orkut's gone, Hi5, among our era, is very nearly history; Facebook is an enslavement and Gmail is, well, if I say a need. We think once more at a few peculiarities in the course of the most recent years that got us energized.
Old Dial Up modem
That being said, this plainly was the section ticket to the WWW. Keep in mind the bizarre beeping and deafening sounds the modem made while uniting with the Net? At the same time we held up understandingly, incidentally letting out fretful sighs as it retried uniting. And afterward when the lights went ahead we don't knew anything could divide us and our session on the web, with the exception of telephone calls, which guaranteed that network was lost.
Chat rooms
"Is it true that you are on ICQ? Then again Yahoo visit?" These were regular inquiries back in the 90's. Being on one of these visit rooms implied you were some piece of the cool part. Talking with companions and arbitrary individuals from over the globe was an exciting prospect, with not many really thinking about issues, for example, security and protection. A/S/L was the way most online discussions started. Yes, does sound extremely aggravating now, isn't that right? At that point came MSN Messenger where gathering talks turn into a trend with individuals getting together and talking. Each time a suspecting guardian strolled into the room the window would instantly be minimized and rather a Wikipedia page would streak on. The most widely recognized reason? Taking a shot at a venture.
Chain mails
Dreadful tie sends took up a considerable measure of our time. "Forward to 21 individuals or something terrible will happen." "Forward to 10 individuals and the adoration of your life will call you this evening." "Forward to seven individuals in seven seconds or you will fail your exams." Who would need to take a risk on these things? Thus, dashing against time the sends would be sent to a large portion of the contact rundown and afterward all would be well with the world. P.s. The ones who failed the exams know they ought to have invested time concentrating on as opposed to sending these sends.
Virtual Greeting Cards
Brilliant, with chirpy ambient melodies and delightful liveliness — for the most part teddy bears conveying kisses and embraces — these virtual welcome cards were a hit. For the most part in light of the fact that they were free and you could send the same number of as you need. Mother's Day, Father's Day, Sister's Day, Valentine's Day, or pretty much ordinary… there were cards for each event. Also most days when you opened your inbox there would unquestionably be one from a mystery admirer with a perplexing email id… which takes us to our next point.
Funky email IDs
Most of us may atmost have two IDs, one official and one personal, but back in the day we had at least five.
It was a fascination to have funky email ids…scarletpimpernal, stepintomygrave, loveuhamesha, flowershower, mistletoekiss…you get the drift. Hotmail, Rediffmail, Sify and Mailcity were the popular sites to have accounts with, and there were benevolent sites that indulged us with fancy domain names. Sample this: iexist@cornerpub.com, crazy4u@lovetruly.com… corny, yes, but in the 90s that was our identity and it was cool, okay!