Issue – Error 7034 The Lync Server Access Edge service terminated unexpectedly.
If you have installed Lync 2013 CU3 or later in your environment, there is one change which is the validation process to check the trusted FQDNs found in the topology. Now you can either configure an FQDN in a hosting provider or in a federated partner's Access Edge address.
Before this update, it was not creating an issue. You will see no error while configuring above settings until you reboot Edge Services.
For example, you have configured the Lync online hosting provider in Lync configuration. Now you are trying to add a new federated domain or modifying the existing one, like in the below screenshot-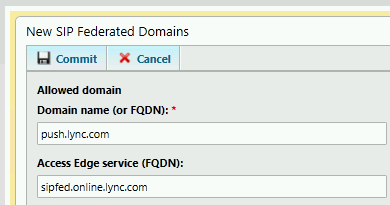 The federated domain push.lync.com should then be defined as a SIP Federated Domain with no Access Edge service specified. You should leave the Access Edge service FQDN blank.
If you will not follow the above configuration, the Access Edge service will not start. An Event 14517 will be logged once it fails-
ERRORS:
The server at FQDN [sipfed.online.lync.com] is configured as both type 'allowed partner server' and type 'IM service provider'.
The solution is to make sure you have not defined Access Edge FQDN is blank for all Office 365 tenants.